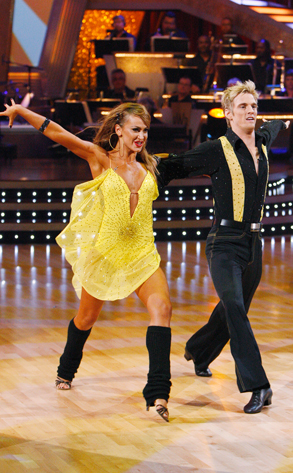 ABC/Adam Larkey
First Hélio Castroneves, now Aaron Carter. Dancing With the Stars has a curse, all right, but it has nothing to do with injuries.
Unless you count the damage done to one's bank account. And permanent record.
Just a week getting booted from the reality-competition show, Carter is on the receiving end of considerably worse news, this time courtesy of the IRS. Turns out, Nick's little bro owes Uncle Sam more than $1 million in back taxes.
Just think of all the Kleenex that could buy.
As it is, according to court documents filed last week, Carter's tax delinquency dates back to 2003, a clearly banner time for the cry baby pop star, as he's indebted to the federal government a whopping $965,284.97 from that year alone.
An additional $45,350.11 is also owed from income earned in 2006, making his debt grand total a hefty $1,010,635.08.
We don't care who you are, that figure's gonna bring on the waterworks.