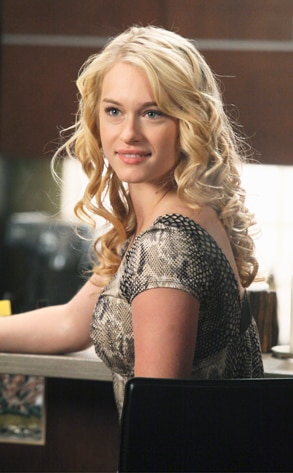 ABC/Danny Feld
Leven Rambin, aka home wrecker Riley from Terminator: The Sarah Connor Chronicles, is coming to Grey's Anatomy Nov. 19, and her home-wrecking streak might not be done yet...
We've been told that Leven's character features heavily in the Nov. 19 episode, titled "Holidaze," and that during the course of that episode (which spans several weeks of story time), "Mark (Eric Dane) and Lexie (Chyler Leigh) must cope with the shocking arrival of a woman from his past."
What's so shocking? Well, rumor has it that Leven plays Mark "McSteamy" Sloan's long-lost daughter. Gasp!
Do you see a family resemblance?
And if you're a "Sexie" fan, is it better if this newcomer is a romantic rival or if she's just a reminder that the Mark-Lexie romance is sometimes just a smidge age-inappropriate? (Seriously, Leven and Chyler look like they could be sorority sisters!)
Last but not least, is anyone out there a tiny bit suspicious that this blond newcomer might actually be the daughter that Izzie (Katherine Heigl) gave up for adoption? What? We're just paranoid, OK?!