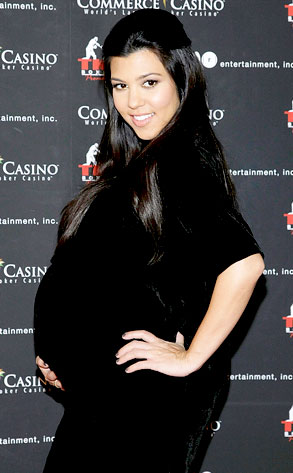 Noel Vasquez/Getty Images
Khloe Kardashian isn't the only member of her family facing weighty issues.
Big sis Kourtney Kardashian, 30, admits she's nervous about gaining too many pounds during pregnancy. "I weigh myself every day," she told us at the Kardashian Charity Knock Out event in L.A. earlier this week. "I've gained 26 pounds since getting pregnant, except I gained three pounds since yesterday."
Being eight months pregnant and understandably bigger than usual hasn't stopped the E! reality starlet from conquering a red carpet in heels. But it sounds like Monday's event could be Kourt's last until after she gives birth...