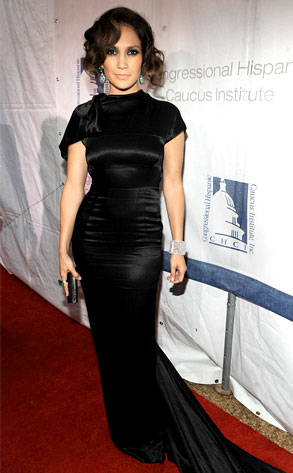 Kevin Mazur/Getty Images
UPDATE (July 29, 2011): An appellate court over-ruled a previous decision rejecting Lopez's bid to take the case to arbitration, determining that her invasion-of-privacy suit does not require a public court case.
UPDATE: Lopez sued Noa for invasion of privacy and breach of contract on Nov. 6. She's asking for at least $10 million in damages.
___________________________________
Jennifer Lopez didn't want her dirty marital laundry aired in black and white, and she doesn't want it out there in Technicolor, either.
Citing the injunction all parties agreed upon two years ago, lawyers for the singer-actress have sent a cease-and-desist letter to her first ex-husband, Ojani Noa, demanding that he finally stop thinking he's going to profit from his brief marriage to the twice-since remarried star.
According to the letter, Noa's been shopping a film project called How I Married Jennifer Lopez: The J.Lo and Ojani Noa Story and has advertised for players on an open-casting website.
"It would strain credulity to the breaking point for those involved in the writing, development and the pre-production of the Proposed Film to claim that they were not aware" of the injunction in place, Lopez attorney John Lavely wrote.
The injunction prevented Noa from publishing a supposed tell-all book a few years back that claimed Lopez, among other things, was hooking up with Marc Anthony while the singer was still married. He was also ordered to pay $545,000 in damages for breaking a confidentiality clause he signed in 2005.
But despite its salacious yet straightforward title, the film's executive producer tells E! News that the movie is going to be more Borat than The Way We Were.