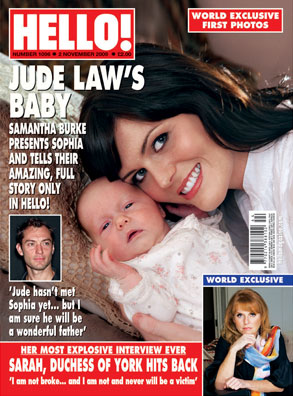 Hello!
Jude Law's fourth child and his hot baby mama, Samantha Burke, are ready for their close-up.
Five-week-old Sophia is making her debut in this week's British tab Hello!, appearing on the cover with her mom and with a 14-page spread inside—which means you're seeing the happy newborn before her dad.
"There are no plans for it to happen at the moment, but I know he's busy," Burke says. "He'll fall in love with her when he sees her.
"She has Jude's chin and nose, and she does a little pout, that I notice he's done before."
Gushing isn't the only aspect of the article. The 25-year-old model-actress also spills the beans on her dalliance with the Sherlock Holmes star...