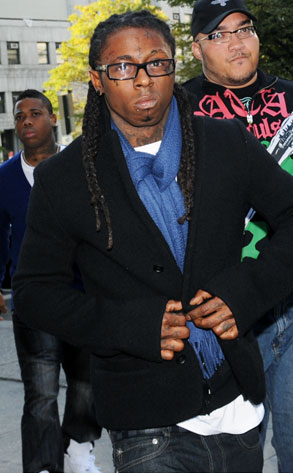 AP Photo/Louis Lanzano
UPDATE: Sentencing was set for Feb. 9.
________________________________
Lil Wayne's heading to the big house.
The "Hot Revolver" rapper struck a deal with Manhattan prosecutors and pleaded guilty today to attempted weapons possession in exchange for a one-year prison sentence, a spokeswoman for the Manhattan District Attorney's Office confirmed to E! News.
The 27-year-old Grammy winner, aka Dwayne Carter III, appeared before Manhattan Criminal Court Judge Charles Solomon and copped to a felony count of attempted criminal possession of a weapon in the second degree. Hizzoner allowed the New Orleans MC to remain free on his current $30,000 bond but ordered him to surrender his passport.
Lil Wayne's attorney, Stacey Richman, told E! News that the plea agreement had been in the works for some time.
"Wayne decided that this was what he wanted to do. I think he had made the decision some time ago and there were discussions [with members of his posse]," the legal eagle said.
Maybe he can ring up incarcerated pal T.I. and ask for some pointers?