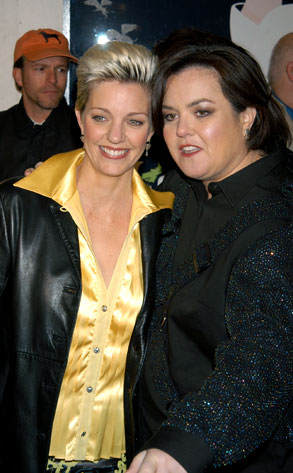 Ron Galella/WireImage.com
Rosie O'Donnell's television career isn't the only thing on the rocks. Apparently, so is her relationship.
The 47-year-old star confirms to USA Today that she and longtime partner Kelli Carpenter, 42, are having "issues," but refuses to officially call the couple kaput, even if the National Enquirer says otherwise.
"Kelli and I love each other very much and we are working on our issues," she told the newspaper as tears allegedly welled in her eyes. "Those are the only words I am ever going to say. Ever. And that is something that has been agreed upon by all parties."
The two, who married in San Francisco in 2004 and have battled breakup rumors in recent years, are keeping their problems quiet solely for the sake of their four children: Parker, 14, Chelsea, 12, Blake, 9, and Vivienne, 6.
"They are a family and will remain a family forever and are working through their issues," Rosie's rep reiterates to E! News. "Nothing else will be said."