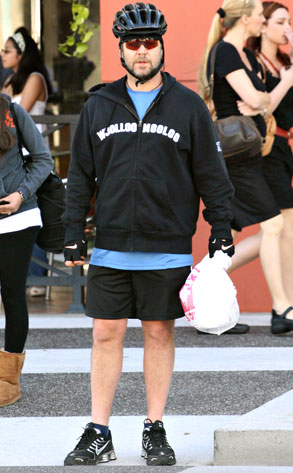 Mike/ Fame Pictures
This is what you call a good sport. (Demi Moore and Perez Hilton, grab a pencil and start taking notes.)
Russell Crowe, not exactly renowned for his loving relationship with the media, fought back at an Australian gossip hound's less than complimentary take on his workout regimen after photos appeared of him this week supplementing his regular 13-mile bike ride with smoke breaks and tacos.
So what did he do? He didn't throw a phone, write a poem or start a Twitter war (ahem). He simply challenged Judgy McColumnist to accompany him, video camera in tow, on one of his rides.
"Get on your bike," his spokesman told her. "Russell wants you to go riding with him. Are you ready to die?"
The answer, apparently, was yes.