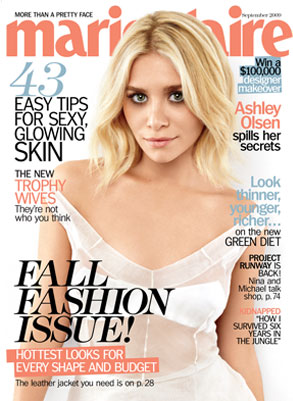 Marie Claire
After reading what Ashley Olsen had to say in September's Marie Claire, she may be the Gwyneth Paltrow of famous people designing clothes—you know, kind of self-important, privileged and a bit out-of-touch. Check it:
"Mary-Kate and I are very aware of trends and style, but at the end of the day, we don't even think twice about it."
Yep, the 23-year-old twins just can't help being so stylish and trendy, that's just the way they were born.
"I think you're either born with a sense of style or you're not. Either you care or you don't. And we love fashion. When we were going to NYU, I think that was the first time we were aware of the power of our personal style. Not the power of it, but the result of it."
It's probably not entirely her fault she's talking like this, especially when people like Neiman Marcus Fashion Director Ken Downing says things about the twins like...