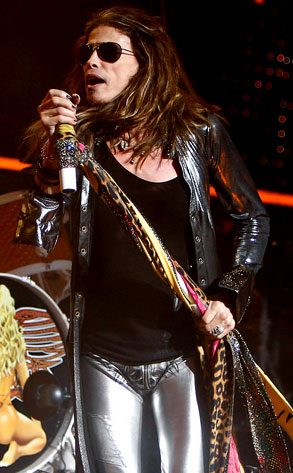 AP Photo/Robert E. Klein
Guess he shouldn't have walked that way.
Sexagenarian rock god Steven Tyler was airlifted to a hospital after falling off stage and suffering minor head, neck, shoulder and, one would assume, ego, injuries midway through a concert in South Dakota last night.
The lipped one was gamely dancing around the stage in an effort to entertain the crowd while performing "Love in an Elevator" after the sound system at the Sturgis Motorcycle Rally went out. While jumping around on the stage's catwalk, the rocker fell backward onto some fans.
One witness said Tyler's head was bleeding and he was clutching his shoulder after the accident.
The concert was stopped and the 61-year-old Aerosmith frontman was quickly choppered over to the nearby Rapid City Regional Hospital.
Which means right about now, he may be thinking what plenty of people have for years: he's getting too old for this...