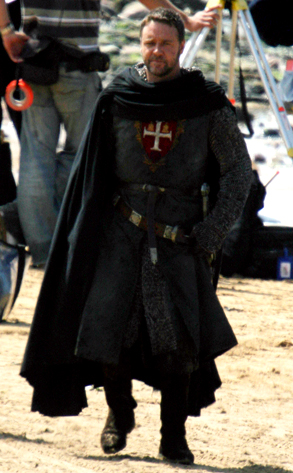 Goff/INFphoto.com
Update: The British tabloid which first printed the story of Russell Crowe's pub ban formally issuing an apology after being informed such a prohibition never occurred.
"We have been informed that Mr. Crowe has never been to the Brickmakers pub and therefore the incident never took place," read a statement from the UK's Sunday Express.
"We also acknowledge that Mr. Crowe has not been banned, ejected or asked to leave any pub in Windlesham, Surrey or anywhere else in the UK during the shooting of Robin Hood. We apologize to Mr. Crowe for the embarrassment and stress caused directly by our error."
________
Consider yourselves warned, British pub patrons. Russell Crowe might be getting his drink on in your favorite watering hole after all.
A rep for the erstwhile Gladiator is smacking down a report that Crowe has been banned from a U.K. bar after allegedly unleashing hell after a day of work on his latest flick, Robin Hood.
According to the Sunday Express, the Oscar winner was far from a merry man when the Brickmakers pub in Windlesham, Surrey, sounded last call. Crowe reportedly asked if he could pay to keep drinking after hours and was denied by the barkeep, purportedly prompting the 45-year-old actor to smash a plate and earn the ban.