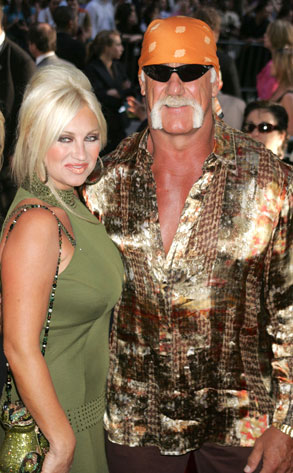 Nancy Kaszerman/ZUMA Press
Hey, we just spotted a pig soaring outside our window. And in related news, Hulk and Linda Hogan are making nice.
The long-clashing, mud-slinging duo reached a deal to end their bitter divorce battle. Attorneys for the Hogans appeared in a Clearwater, Fla., court this morning to announce the settlement, which was hashed out last night, E! News has learned.
Linda filed for divorce in 2007, accusing the Hulkster of having an affair. The estranged twosome had been squabbling over assets worth around $30 million.
Terms of the deal were not disclosed, but both sides seem relieved, if not happy, to have the messiness done with.
"Hulk is looking forward to moving on with his life and is very hopeful that he and Linda can maintain a friendship and work together as parents to their two children," Hogan's rep told E! News.
Said Linda, "The war is over."