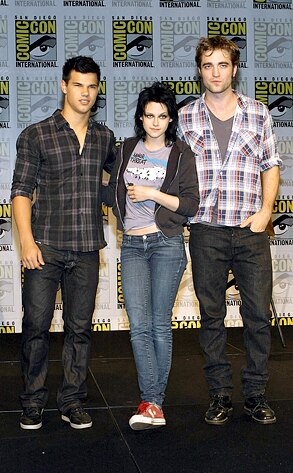 Chelsea Lauren/Getty Images
Maybe it was the reporter in a costume (not I) asking Robert Pattinson and Kristen Stewart during a Comic-Con press conference if anything was going on between them, romantically, that put Robsten in a not-so-great mood?
R.Pattz ignored the query, but Kristen, in her tough rocker jeans and Joan Jett hair, snapped: "Really? Really? That's what you're going to ask?"
At which point a Summit moderator scolded the reporter, reminding him he'd been told no personal questions. Oh yeah, nobody tittering and Twittering at the San Diego convention is gonna wonder out loud, at least for a sec, when the hell Robsten's gonna come out of the closet, sure thing!
From then on, however, Rob and Kristen barely looked at each other, and they seemed to be sitting farther and farther apart. Their choice or Summit's? What else went down?