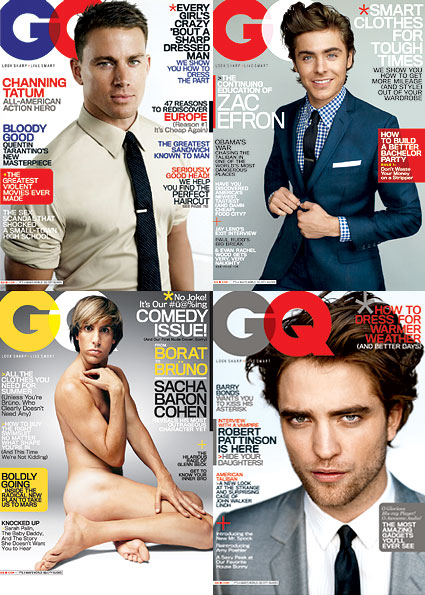 GQ
Scoring a GQ cover for a guy is kinda the equivalent to being front and center on Vogue for a gal. It's a delicious honor. Even A.T. stud-fave and summer blockbuster sensation Chris Pine could only could score an inside spread.
So behold the mugs of four of the summer cover boys: Zac Efron, Robert Pattinson, Brüno and Channing Tatum.
R.Pattz may have been the April issue, but let's face it, he's been everywhere in the media the past couple of months.
Now Rob addicts, let's be fair here—we're not judging only on looks. Take for ince Channing's abs, Brüno's controversial buzz-worthiness and Zac's public lady juggling. We wouldn't kick any of these guys outta bed. Well, except Brüno. Sacha Baron Cohen is questionable.