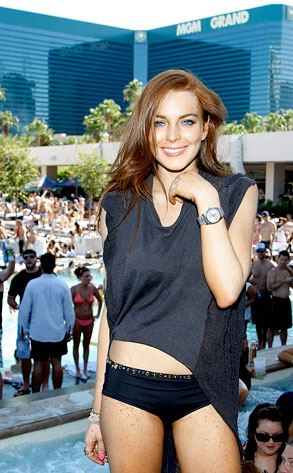 Courtesy Wet Republic
UPDATE: Lindsay's lawyer, er, Twitter says: "No formula was stolen for Sevin Nyne. It's a woman looking for a payday. That's it!"
The president of United 1 Labs, which manufactures Sevin Nyne, also issued this statement:
"I am sorry to hear about the claims being made against Lorit, LLC regarding the Sevin Nyne product," said exec George Mitchell. "I have been involved in creating self-tanning products for over 12 years. When requested to help develop the formula for Sevin Nyne with Lorit, LLC I did so using my expertise and was not provided with any formulas or trade secrets by Lorit, LLC or anyone involved in or related to the Sevin Nyne product.
"As everyone in the self tanning industry is aware, the combination of dihydroxyacetone and erythrulose are commonly used in all self tanning products. There is nothing proprietary about the combination of those two items. Further, there is nothing proprietary with regard to the fragrance used."
He trusts the "truth will prevail."
__________________________________________________________________________
Apparently with all that free time on her hands of late, Lindsay Lohan has secretly become an ace chemist.
Who knew?