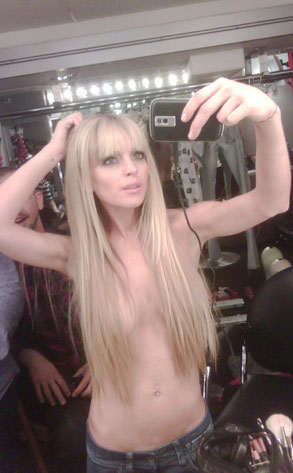 • When we're bored, we usually turn on the television or pick up a book. Sometimes, we'll even go for a walk. When Lindsay Lohan is bored, she posts topless photos to her Twitter. This one had the note "Fornarina. OLD PHOTOS. I'm THAT bored," and she made sure Perez Hilton and E!'s Ben Lyons received it. Ironically, reports of LiLo's NYC weekend itinerary don't sound at all droll.
• The Jonas Brothers want to splice their song called "Paranoid" with Kanye West's song "Paranoid." They're so clever and hard-core.
• A.G. + A.G. = Ashley Green and Adrian Grenier! Hearts!
• Apparently, someone else has noticed that Mischa Barton has been MIA from all the Beautiful Life promotion going down. More important, do we miss her?
• Michael Jackson has supposedly enlisted the Hulk, Lou Ferrigno, to get him ready for his big London concerts. We'd like to see the big green man tango with Jacko's choreographer, High School Musical helmer Kenny Ortega!
• Dear Rollasole: For understanding that wearing Victoria Beckham-style stilettos and dancing in them are two different things, we thank you! Now, please come to the U.S. Love, Rise 'n' Shine
Suri, Bronx, Moxie Crimefighter, we love them all, but we really want to know, who has the strangest moniker of the kiddie ball? Help us figure it out in our Weirdest Celebrity Baby Name Gallery Poll!