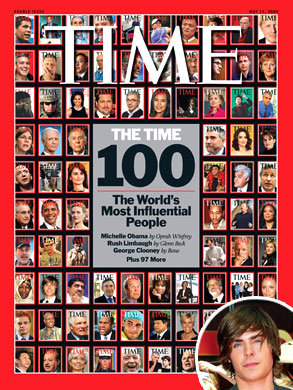 Time, Flynetonline.com
Two days, two 100-strong lists of movers, shakers and genetically blessed stars...not a whole lot of overlap between the two.
But leave it to the man-boy who can send both tweens and cougars into a tizzy of equal measure to straddle the divide—just one day after he was named one of People's 100 Most Beautiful beings, Zac Efron also managed to stake his claim as one of the world's most influential people on the Time 100.
The magazine is no doubt hoping his influence is particularly strong when it comes to newsstand sales.
The rest of the list is chock-full of A-listers, including six-time honoree Oprah Winfrey, George Clooney, Brad Pitt, Tom Hanks, Jay Leno, MIA, Penélope Cruz, Tina Fey, Kate Winslet, John Legend, Slumdog Millionaire composer A.R. Rahman, Barack and Michelle Obama, Hillary Clinton, financial guru Suze Orman and, brace yourselves, the ladies of The View.