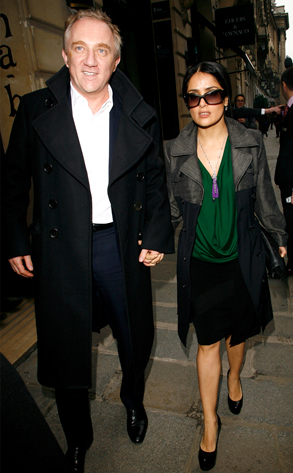 Julien Hekimian/Getty Images
Salma Hayek has a blockbuster sequel on her hands.
The Oscar-nominated actress, who officially married on Valentine's Day, is scheduled to hold a wedding celebration with her husband, François-Henri Pinault, this weekend in Italy.
Sources have confirmed to E! News that Hayek, 42, and celeb pals, including Penélope Cruz and Javier Bardem, have already started to arrive in Venice for the event. The soiree was organized so that the newlyweds could celebrate with friends and family, since their wedding earlier this year was a low-key affair attended by few.
Hayek had previously shot down rumors that she planned on spending $2 million for the party—not that the ultraloaded Pinault, a tycoon whose company runs Gucci and Yves Saint Laurent, couldn't afford to bankroll such a lavish affair.
The couple, who split briefly last summer despite a long engagament, have a 1-year-old daughter, Valentina.