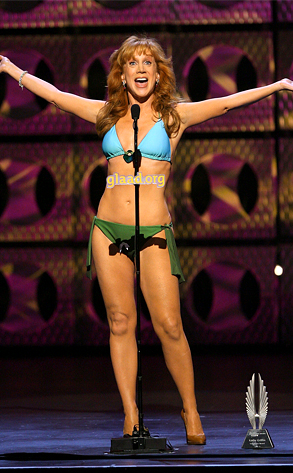 Vince Bucci/Getty Images
Leave it to Kathy Griffin to accept an award in a bikini.
That's exactly what the star of My Life on the D-List did this weekend when she was honored with the Vanguard Award during the GLAAD Media Awards at L.A.'s Nokia Theatre.
Griffin first showed off her toned physique in a swimsuit spread earlier this month in OK! magazine. "I feel the pressure in Hollywood to stay emaciated yet fit," Griffin joked with us. "I need to stay a sex object."
Griffin also joked—at least, we think she was kidding—that T.R. Knight was the only celeb in Hollywood who was willing to present her with the award. She said she was turned down by Ryan Seacrest and Oprah Winfrey, among others. So what about one of Hollywood's newest lesbians, Lindsay Lohan?