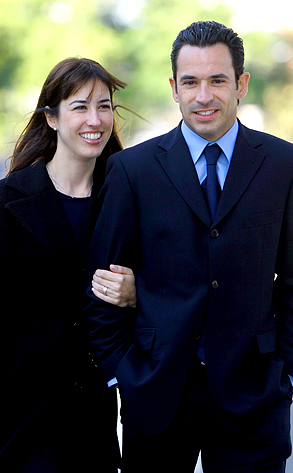 AP Photo/Alan Diaz
Hélio Castroneves is about to take the sweetest victory lap of his career.
The former Dancing With the Stars and two-time Indy 500 champ has been acquitted on six counts of federal tax-evasion charges after a six-week trial and six agonizing days of jury deliberations.
On his seventh count, the lead charge of conspiracy, the jury remained hung, leaving the judge to declare a mistrial on the count.
"I just want to thank God, and my fans, and all of the people who prayed for me," he said outside the courtroom. "It has been a very difficult place to be in."
The 33-year-old was indicted earlier this year on seven charges stemming from an alleged tax-dodging scheme also involving his sister and business manager, 35-year-old Katiucia Castroneves, and 71-year-old sports attorney Alan Miller. The threesome supposedly tried to hide more than $5.5 million in income from Uncle Sam between 1999 and 2004.