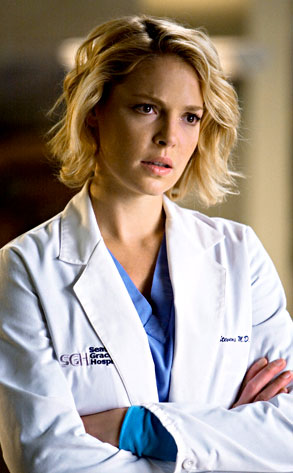 ABC/RANDY HOLMES
Katherine Heigl says she might be sticking around Seattle Grace a little longer than we thought.
Per an article posted by our friends at HuffPo, Heigl addresses her future on Grey's Anatomy and the fate of her imperiled character, Izzie Stevens: "I was assuming that [my character's days were numbered] at one point and I got a lot of shrugged shoulders and shakes of the head, so I don't know if that's a yes or a no. No one will tell me and I don't know how this is going to go. I don't know if I live or die. I don't know how Izzie fares."
Reports have circulated since last summer that the show would eventually kill off Katherine Heigl. A couple episodes back it seemed that was finally coming to pass, as Izzie was diagnosed with stage IV metastatic cancer in her brain and liver. Despite the whole dead Denny debacle (we love you, Jeffrey Dean Morgan!), Izzie's cancer storyline is at the center of Anatomy's current creative renaissance, and right about now the fans are rooting for Iz to live.
But enough about death and dying for a moment: Let's talk about what is usually one of life's happier transitions, because show runner Shonda Rhimes spilled at the party that the show's 100th episode occurs at the wedding of a twosome you love.
Who gets the honors? Well, according to Shonda: