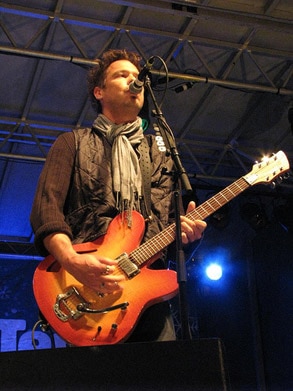 John Bollwitt
At a private concert put on by a local radio station last Friday Ian Thornley, of the band Thornley, explained that he never dreamed he'd end up with the career he's had even after attending the prestigious Berklee College of Music. He met his original band mates from Big Wreck in Boston during the 1990s and they saw great success from the US and Canadian charts throughout the last decade.
Now his current band Thornley, which consists of himself, Tavis Stanley, Cale Gontier and Eric Paul (Big Sugar), will release their follow-up to 2004's Come Again. The album, Tiny Pictures, which has been highly anticipated, includes songs written over the last few years and will be released on Tuesday, February 10th.
The band has quite the Vancouver connection, especially when it comes to this particular record, which is not only being released by 604 Records (founded by Chad Kroeger of Nickelback) but contains several songs that were also co-written by local artists.
The first single, Make Believe, which has been on the radio since December 2008, was collaboration with Dave Genn (54-40, Matthew Good Band) and Kroeger also helped write the track Your Song. Also former Thornley member, Ken "The Worm" Tizzard (The Watchmen) was sitting in on bass for all recent shows in the Vancouver area.