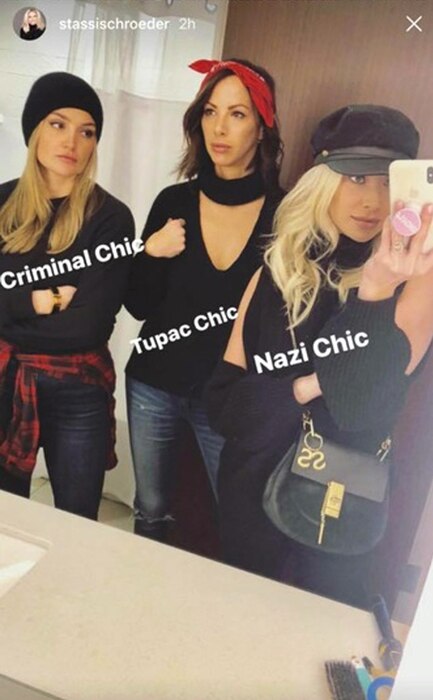 Stassi Schroeder/Instagram
Indiana Jones hates them; it's too bad Stassi Schroeder doesn't...
The Vanderpump Rules star is no stranger to controversy, but the reality star has landed herself into some serious hot water yet again after posting a shocking image of herself and friends Rachel O'Brien and Kristen Doute all dressed up on Instagram Stories with the jaw-dropping caption: "Nazi Chic."
To add further fuel to the inappropriate fire, the reality star tagged her friend in a handkerchief's style as "Tupac chic."
The post, which appears to makes light of the six million European Jews that were exterminated by Adolf Hitler's Nazis in the 1940s, was quick to spark outrage online, with some calling upon Lisa Vanderpump and Andy Cohen to kick Schroeder off the Bravo reality show.
In a possibly more surprising move, the reality star quickly took the controversial post down—only to re-post the same photo, which she then called an "appropriate redo," but captioned it: "#Elsa-IndianaJonesChic." Despite per personal caption switch, her friend remained "Tupac Chic."
For those who need a refresher: in Indiana Jones: the Last Crusade, Indiana falls hard for blonde beauty Elsa Schneider, who just happens to be the one thing that Dr. Jones hates more than snakes—a Nazi. (BTW: sorry if that was a spoiler alert, but the movie came out in 1989—so that's really on you.)
Looks like Schroeder's version of "appropriate" is to take out the word "Nazi" and sub it in for a fictional Nazi, so she's still calling herself a Nazi.