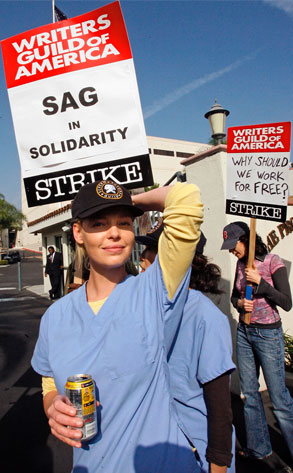 AP Photo/Damian Dovarganes
So...wow. There have been so many strike-related questions submitted to tvdiva@eonline.com in the past few days, we decided we better buckle down and get you some answers—pronto! So, here you go...Everything you wanted to know about the strike and weren't afraid to ask. (And as always, get the latest writers' strike details in our news story, and keep checking back for more.)
Kim in Cincinnati: Hollywood has shut down, no new talks are scheduled and now I learn that after waiting almost an entire year I'll still only be getting eight episodes of Lost. Why does it feel like I am the one paying for the strike?
Lost boss Damon Lindelof feels your pain and wrote about what the strike means for him, you, the show and the world in a New York Times op-ed. And just between you and me, every show runner and writer we've spoken with in the past week has been absolutely devastated about leaving behind their scripts and shows. Trust me when I tell you they are not taking the strike lightly, and they are very, very aware of how frustrating it is now and will continue be for you, the fans. I know they (and we) are all hopeful that negotiations will resume soon!
Brian in Murrieta, California: If the strike goes several months, will the studios just decide to cancel series to punish the writers and show runners and increase the pressure on them to settle? Could it escalate into canceling shows like The Office and 30 Rock to make their point?