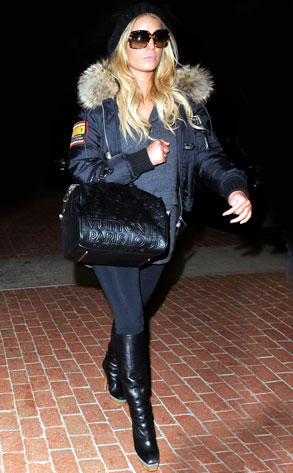 Brandon Todd/ Splash News
Jessica Simpson isn't going to let a bunch Internet critics turn her into a recluse. She's resurfaced a survivor with an oversize (and well-placed!) Louis Vuitton handbag and perfect hair.
Just days after Jess shocked the world with jeans so bad that all anyone could do was hurl the F-word around, the Chili Cook-Off star is back out for a show in Charlotesville. How brave. It must have been Kim Kardashian's praise and Ashlee Simpson-Wentz's lecture that made such a rapid recovery possible.
Mostly, we're just proud of the singer for learning something through this whole debacle: don't wear unattractive, unflattering outfits. Seems pretty obvious, but sometimes you just gotta learn the hard way that Lindsay Lohan is right—leggings really do solve all your problems.