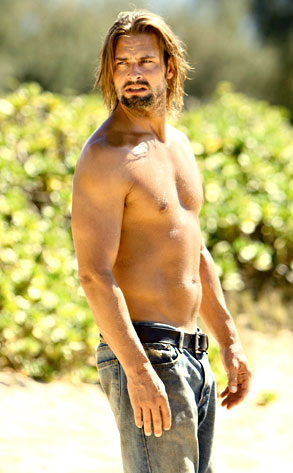 ABC/MARIO PEREZ
Lost returns tonight, and to get you ready, we've brought spoilers straight from the source!
Yes, Lost executive producers Damon Lindelof and Carlton Cuse kindly agreed to a round of False; True; Hell No, We Won't Tell You, and they addressed all your burning Q's about season five, including, of course, what's in store for Sawyer.
(Sawyer, in case you've never heard of him, is gratuitously pictured shirtless in the image on the left. We take advantage where we can.)
With whom will James Ford be experiencing some "romantic tension"? And what about that secret Sawyer whispered in Kate's ear in last year's finale?
We know the truth, and we're spilling...