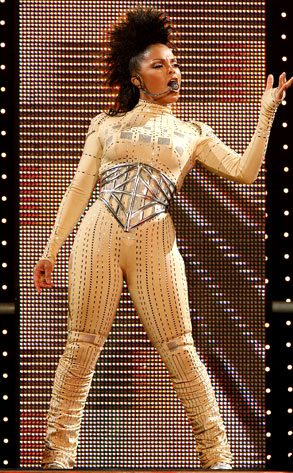 Kevin Winter/Getty Images
She may have beat vertigo, but not even Janet Jackson can overcome the current economic crisis.
Or so say the promoters, at least, of the now-scrapped Japanese leg of her Rock Witchu world tour, who have blamed the global credit crunch for the postponement of five upcoming gigs.
Concert promoter Kyodo Yokohama said the 42-year-old pop star was forced to scuttle concerts set for several major Japanese cities, including Osaka, Fukuoka and Nagoya, "due to the impact of the economic crisis."
Jackson was expected to kick off the Asian dates on Feb. 14. The gigs will now be rescheduled for sometime later in the year, ostensibly to give the market time to bounce back, and will be announced in March.
It's the latest instance of Jackson being unable to rock wit her fans. Last year she nixed several dates on her North American tour due to illness, later diagnosed as vertigo.