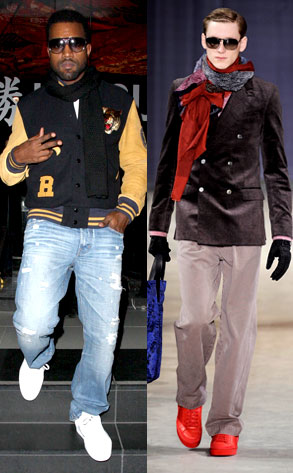 WENN; Karl Prouse/Catwalking/Getty Images
As if Kanye West's ego needed to be any bigger.
The fashionisto, caps lock fan and self-proclaimed Louis Vuitton Don recently tried his hand at design, collaborating with his favorite high-end brand on a line of footwear called Louie. Cute name, right?
Now check out the kicks. West has been previewing them on his own feet lately, and last week they were featured on the LV runway during Paris Fashion Week. (They'll hit store shelves in June.)
According to Women's Wear Daily, West found sartorial inspiration from "the movie Dune. The collection had all these jackets that were very padded." But to us they sort of look like regular old tennis shoes, just painted in splashy colors.
What do you think of his line: foot candy or foot fault? And has Kanye found a new calling, or should he stick to the music? Let us know in the comments.