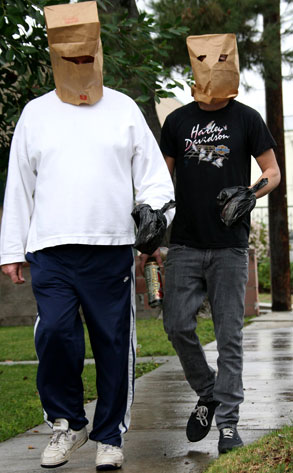 Goffredo Crollalanza, PacificCoastNews.com
• Shia LaBeouf just wants to live a normal life where a dude can go to a convenience store and pick up his Arizona Iced Tea without some paps getting all up in his face. Hence the clever disguise (and body double). But dude, go green with a canvas bag.
• Drew Barrymore-Cameron Diaz experts say the pair's epic breakup is all Drew's fault because Cam's just not that into silly.
• What?! Rachel McAdams has a new boyfriend that isn't Ryan Gosling?! Fix this, Obama.
• We can't remember the last time we saw Seth Cohen/Adam Brody around, but it's nice to know he's out there somewhere. Now where are Peter Gallagher's eyebrows? Let's have a whole O.C. reunion up in here.
• Brad Pitt forgot to zip his fly, so today's been all about Benjamin Unbuttoned jokes. And while we're on the subject, get ready, Long Island! You've been chosen as the next host of the Royal Brangelina Family.
• Katy Perry is back to not being celibate FYI.
Ready to see double? Brangelina and TomKat Supercouple alert in the Big Pic.