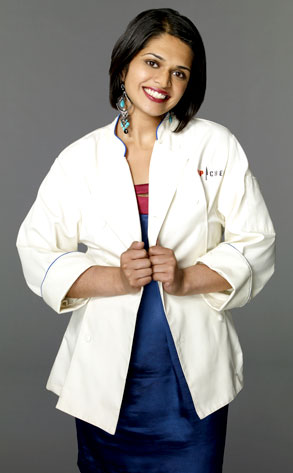 Bravo Photo: Michael Lavine
It wasn't her cooking skills that got sweet-faced, soft-spoken Radhika booted from Top Chef last night. It was her management skills that left the judges unimpressed. "Rad" was told to pack her knives after she failed to lead her team, Sahana, to victory over Leah's Sunset Lounge during the all-important restaurant war.
But isn't Top Chef about cooking good food? So why on earth did Leah get to stay despite serving undercooked fish to the judges? Maybe it's because Leah makes better television—she and fellow cheftestant Hosea have been getting quite cozy even though they have significant others back at home.
I caught up with Radhika this morning from her home in Chicago, where she's executive chef at Between Boutique Café & Lounge, to dish on her elimination...