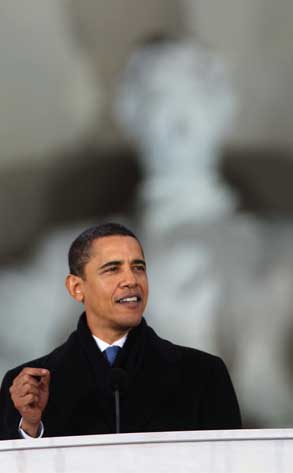 Dennis Brack-Pool/Getty Images
Sure, there will be plenty of tough times and hard decisions to come, but at least for today President-elect Barack Obama did what teenagers everywhere have dreamed about should they become president: Throw an awesome party with totally rocking bands.
The We Are One: A Celebration at the Lincoln Memorial featured a dream roster of performers: Beyoncé, U2, Stevie Wonder, Sheryl Crow, Will.i.am, Bruce Springsteen, Garth Brooks, Mary J. Blige, John Legend and many more. Tom Hanks, Samuel L. Jackson, Jamie Foxx, Jack Black and Denzel Washington also appeared to read and make short presentations.
And the best thing? The guy isn't even president yet. Imagine what that party is gonna be like.