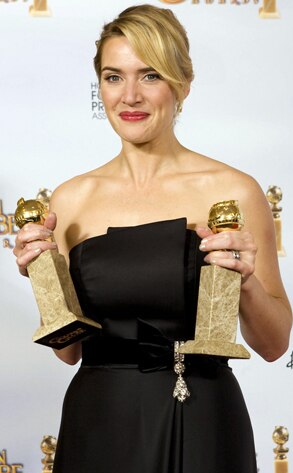 EFE/ZUMAPRESS.COM
Dear Ted:
Is anything going on, or was anything going on between Kate Winslet and Leonardo DiCaprio? They were adorable together at the G.G. Plus, she said she has been loving him for 12 years or something.
—Yolanda
Dear Titanic Hopeful:
I wish for them to be together as much as you, babe, but currently I'm afraid it's a no. Kate's married—happily, I hear—to director Sam Mendes. Leo (who's really still too soft, needs to tone up at the gym, don't you think?) was very much with that model ho at the G.G. afterparties.
Dear Ted:
Do you think it's possible that the destruction of Hohan and Sam's relationship is due, in part, to an onslaught of severe yeast infections caused by those ungodly leggings?
—Mmf77
Dear Burn After Reading:
I'm sure what's itchin' them is from a lot of things.
Dear Ted:
Is Crescent Kumquat from One Spoonful of Spice Blind Vice American or British?
—Patti Chicago