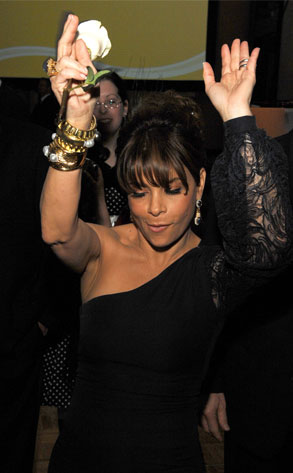 Dimitrios Kambouris/WireImage.com
So Idol debuted its newest addition—something that has been obviously lacking for all seven preceding seasons: sanity. We're bored already. Songwriter Kara DioGuardi was equal parts Abdul and Cowell: sweet, but firm. We sorta wish she was bitchier, but that's just 'cause we wanna hook somebody up with a newly single Simon.
But Kar's the most coherent voice the judge's table has ever had. Plus, the gal can belt a tune, as evidenced by that "oh no you didn't!" sing-off with Bikini Girl. Hell, even Paula seemed to like her. On camera, anyway. Off camera? "You must be joking," rhetorically sassed an A.I. insider directly to us when we inquired. (Thought so.)
Now that K.D.'s the young, fresh female judge, how's Abdul gonna compete with that? We smell an inevitable nervous breakdown coming soon...