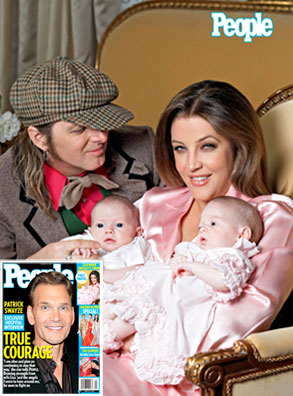 John Russo/People
The King's kingdom has clearly gotten a whole lot cuter!
Three months after the birth of their twin girls—Harper and Finley—Lisa Marie Presley and her hubby, Michael Lockwood, are proudly giving the world its first glimpse of Elvis' newest grandkids in the latest issue of People.
"When we brought them home, we were in shock—and blissful," says the 40-year-old Presley, who has two children from her first marriage, 19-year-old Riley and 16-year-old Ben.
And as for what kind of tunes her little ones will be exposed to, Presley adds, "There will definitely be a music lesson on Grandpa."