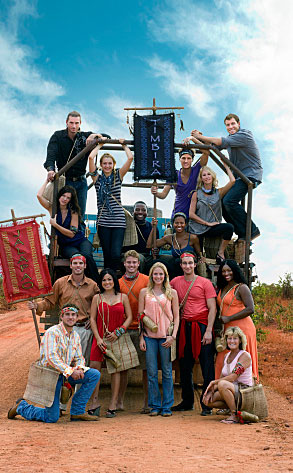 Monty Brinton/CBS
As a former member of the pop group SWV, Taj Johnson-George managed to survive the album charts in the early '90s. Is she ready for Survivor or will she be too "Weak"?
The singer is one of 16 new castaways on Survivor: Tocantins—the Brazilian Highlands, the 18th installment of the Emmy-winning CBS series.
Jeff Probst will host once again, but the beginning of the season is all about first impressions. The contestants-who also include a school principal, an Army sergeant and a cattle rancher-have already been divided into two tribes. Before the castaways even have a chance to speak to one another, they'll have to choose one person from each tribe to stay behind. As a CBS release says, "Will this mean the end for these two individuals or will they get a second chance to make a first impression?"
Viewers can find out when the season kicks off on Thursday, Feb. 12. In the meantime, here's a list of the potential million-dollar winners: