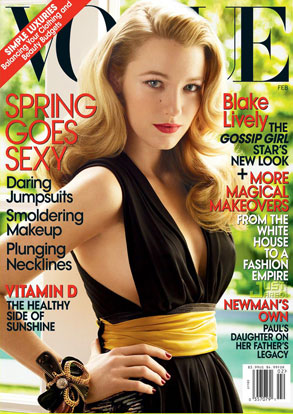 Vouge
Serena van der Woodsen, er, sorry, Blake Lively landed her first Vogue cover for the fashion bible's February issue.
What's this? A CW star on the cover of high society's monthly glossy, and it's not even Leighton Meester/Blair Waldorf/the brunette one with the cute headbands? How can this be happening?! At least, these are some of the reactions around the Internet.
Like most things printed on paper (ew, paper!), the self-important magazine has been losing ground for a while now, even sparking rumors that editor-in-chief Anna Wintour is retiring and being replaced by her French Vogue counterpart. So they gotta keep it fresh over there. (See: Jennifer Aniston on the cover with the tabloidy headline "What Angie Did Was Very Uncool"?)
The question is, did they pick the right hot, young star to move magazines?