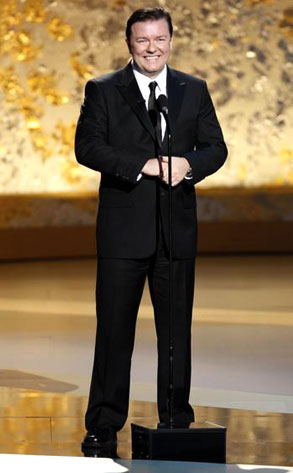 ABC/TIM OGIER
What's the best thing that happened? The worst? The most "OMG, I can't believe what happened" moment? Read on.
Best Showstopper/Buzz Kill: Ever wonder what it'd be like to be the child of a famous person like J.Lo? Wonder no more, TV audience. The singer-actress-perfume let the chatty celebrities know who's boss when she shushed them with a stern "Hello, hello—mama talkin'." Are you impressed—or scared?
Kate Winslet Is the Reader! No, really. She totally read a superlong list of people and near-people (agents, eh) she wanted to thank, and, well, as much as we like to be read to, we prefer historical romance.
Sting—WTF? The singer seemed to have been replaced by an 18th-century buccaneer. Mind you, we aren't complaining...
The Curious Place Setting of Benjamin Button: The camera caught Brad Pitt asking a tablemate, "What's that for?" We're pretty sure he was curious at the award being given, and not one of those tiny forks at the table.
Best Performance by a Non-nominated Actor: Ricky Gervais, who came out to shush the crowd—"How rude are you lot?"— and then proceeded to turn in an impromptu comedy routine that was at least as good—and as long!—as Tom Cruise's in Tropic Thunder.
Most newsworthy: No, David Duchovny didn't win an award for pretending to be a writer who has sex a lot (Calific-tion!), but he did mention his "wife" in his speech, which led every celeb reporter and editor watching to start preparing a story on the state of his marriage.
Best Reactions: Tina Fey. Tom Hanks. Tom Cruise. Some stars earn their awards/paychecks/creepy celebrity followers by remembering that fans are watching them at these shows sitting, eating, giving speeches. And they remember to look like their enjoying it. Good job, folks; can you get some of your bored-looking colleagues to follow suit?
Least Best Rolemodel: Sure Tom Wilkinson is an awesome actor and got an much-deserved award, but Paul Giamatti blew our buzz when he revealed that the guy "got me smokin' again." Encouraging the competition to smoke is no way to get better parts, Wilkinson.
Best Writing: "Mind-reading barmaid," "veteran, experienced stripper" "marijuana dealing suburban mom" – we don't know who composes the descriptions of all the nominated roles, but that writer should get a deal. That's some crazy stuff.
Least Helpful Insider Tip: We don't want to suggest we have any insider knowledge, but we are pretty confident that Slumdog Millionaire has some Oscar buzz.
Bruges, Brother: Colin Farrell won for this small comic caper film, and gave a long, deeply entertaining speech that touched on more emotions than most films.
Biggest Upset: Did you know that the awards were in HD? (OK, we were surprised by this.)
More to come...