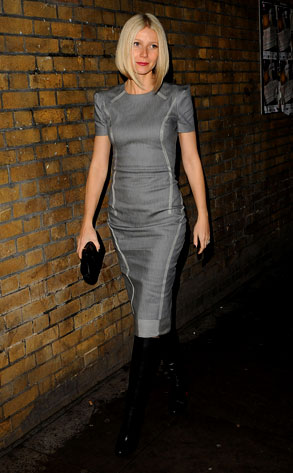 Eamonn McCormack/Getty Images
• To all her GOOP critics (yeah, that's us), Gwyneth Paltrow says, "I just feel sorry for them." She explains her intentions: "I have this incredible, blessed, sometimes difficult, very lucky, very unique life, and I've gotten to travel all over the place and to work and live in different cities...and sometimes friends need help finding a sink that looks midcentury." That probably makes more sense in her head.
• Lily Allen wants to know why we don't hear more heartwarming stories about cocaine. As she says, it's not that drugs are bad, "some people are just bad at taking drugs." Hmmm, we might know someone poor Lily could ask...
• John Mayer's Ode to Jen Aniston goes something like this: "Lucky in love, lucky in love/ Didn't forget me when I asked you to leave me/ Didn't forget me/ Now you're alongside me/ You've brought luck to love/ I've been hit by a truck in love."
• There's only one way to end this mess: Anderson Cooper and puppies.
Get more scoop in our Big Picture gallery!