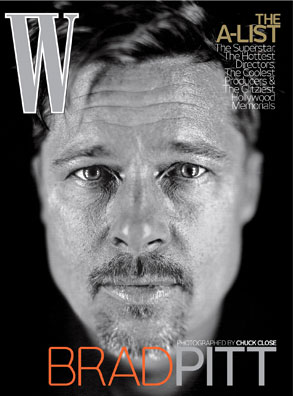 W Magazine
Is Brad Pitt trying to declare peace in the Brangelina vs. Jennifer Aniston media smackdown?
It seems that way in his latest interview in W magazine, where he's photographed au naturel and gives unguarded answers when asked about Jen's "uncool" comments.
"Jen is a sweetheart," Brad says. "I think she got dragged into that one, and then there's a second round to all of that Angie versus Jen. It's so created."
He echoes Jen's claims that they're still in touch, saying that he and Jen still "check in" with each other. "She was a big part of my life, and me hers," he continues.
But don't think he didn't defend Angelina too...