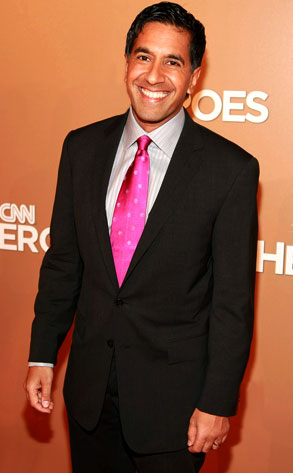 Dimitrios Kambouris/Getty Images
Barack Obama is apparently looking to bring sexy back to Washington.
CNN reports that the president-elect has approached the network's chief medical correspondent, Dr. Sanjay Gupta, about taking on the post of U.S. Surgeon General.
Hence, the Detroit-born neurosurgeon, deemed one of the Sexiest Men Alive by People in 2003, has steered clear of reporting on healthcare policy or any other Obama-related issues, according to CNN.
Gupta himself has declined to comment, but we're suspecting he's pretty flattered.
The 39-year-old University of Michigan alum makes his home in the Atlanta area now, but in 1997 served as a White House fellow and as a special advisor to then-first lady Hillary Clinton. He joined CNN in 2001.
In addition to anchoring the weekend show House Call With Dr. Sanjay Gupta and filing stories for the network and CNN.com, the doc pens a column for Time, tapes medical segments for TNT reruns of ER and helms his own podcast, Paging Dr. Gupta.