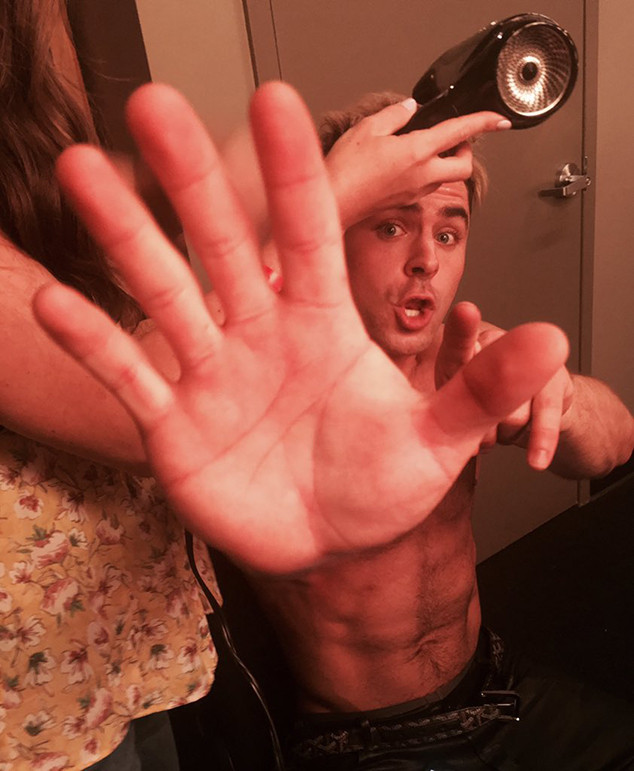 Twitter
Hopefully the air conditioning was pumping backstage on the set of Jimmy Kimmel Live! because it must have been hot, hot, hot!
Jimmy Kimmel's talk show featured Zac Efron and Adam DeVine, who are busy promoting their new comedy, Mike and Dave Need Wedding Dates, but before they went out on set they had to primp backstage. Fortunately, Kimmel had the foresight to know that at some point Efron would have to get dressed, which means only one thing: he'd be shirtless.
Based on the hilarious (and hot) photo the High School Musical 3 alum shared on Twitter, it appears Kimmel barged in on Efron while he was having his hair perfectly coiffed. Fortunately, he wasn't wearing a shirt. The ensuing photo showed Efron trying to prevent the pretend paparazzi from snapping his picture by holding up his hand. But he didn't prevail. The late-night talk show host was able to capture Efron's surprised face chiseled abs in all of their toned glory.
"Not ready for my close up Mr. Kimmel," Efron tweeted.