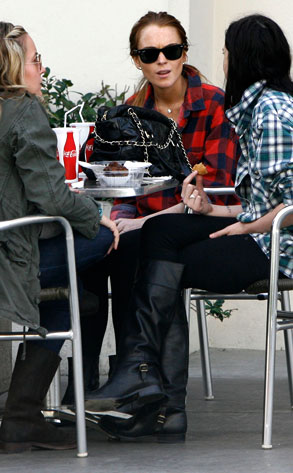 RevolutionPix.com, PacificCoastNews.com
Looks like Lindsay Lohan woke up on the wrong side of the bed yesterday. Maybe that's because Samantha Ronson wasn't lying there next to her?
We thought the quasi-lesby lovebirds had finally called it quits, but according to trusty L.L., that rumor is absurd.
Well, just because they haven't ended their fauxmance yet doesn't mean they shouldn't. When the inevitable breakup happens (sooner rather than later, trust), you bet Lindsay won't be crying into her Birkenstocks for long.
The Awful Truth gang can't agree: Should she should go all out and date a gal like Anne Heche, or maybe one or all of the Jonas Brothers? (Linds would probably eat one of them for breakfast.) What do you think?