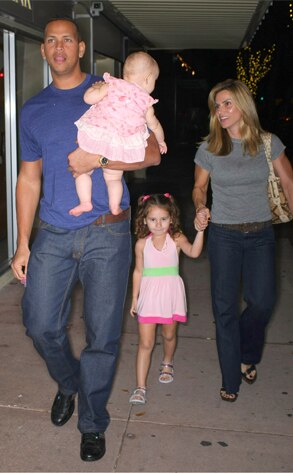 Flynetpictures.com
Can you say "damage control"?
After Cynthia Rodriguez's nasty email about "soul-less" ex-husband Alex Rodriguez's plans to spend Thanksgiving with Madonna instead of his two kids just happened to get leaked to the press, the baseball star has done some hasty backpedaling.
Shortly after landing in Miami with Madge (who has a concert there Wednesday night), the Yankee slugger made sure to have a camera-ready dinner with his family.
"Alex was here for a meal yesterday," the manager of a Houston's restaurant in Coral Gables, Fla., confirmed to E! News. "He was kissing his daughters and seemed in a great mood. You would never know there was any issue at all between him and Cynthia."
Now we're just waiting to see whether the ballplayer will slice the turkey with Natasha, 4, and Ella, 1, or if he'll he be asking pop queen to pass the stuffing.
—Reporting by Ken Baker