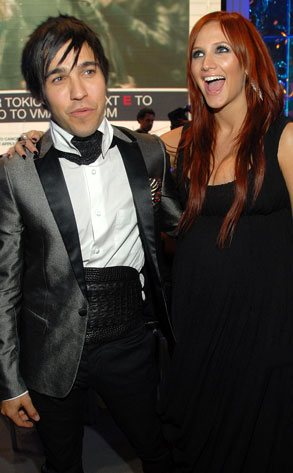 Frank Micelotta/Getty Images for MTV
The pop star has finally popped.
Ashlee Simpson-Wentz and her rocker hubby Pete Wentz welcomed son Bronx Mowgli Wentz, their first child together, Thursday at Cedars-Sinai Medical Center in Los Angeles.
The baby boy weighed in at 7 pounds, 11 ounces and measure 20 1/2 inches long.
"Ashlee, Pete and baby Bronx are all healthy and happy, and thank everyone for their well wishes," a rep for the couple, who tied the knot back in May of this year, told People.
The birth itself comes almost three weeks after the 29-year-old Fall Out Boy frontman told Ryan Seacrest that his 24-year-old missus was "very pregnant…She's at the very end, and it could happen at any point."
New aunt Jessica Simpson, meanwhile, said during an Ellen DeGeneres Show taping on Monday that her sister was considering inducing labor.
"I think she's really just jumping around trying everything right now" to get the baby out, Simpson said.