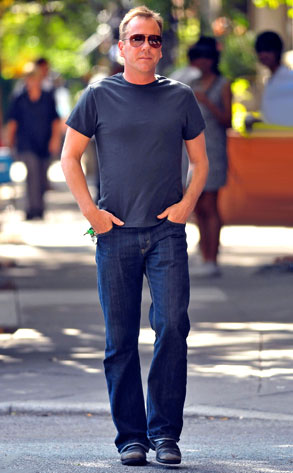 Edward Opinaldo, PacificCoastNews.com
Kiefer Sutherland, hangin' out in the first-class lounge at LAX in the United terminal. Kiefy was en route to New York for an appearance on Regis and Kelly, wearing jeans, cowboy boots and a blue button-down shirt.
The hour-plus delay didn't faze him, as he sat at the bar, drinking only water, bypassing all the free booze offers. Wow, a stint in jail actually worked for a celebrity! K.S. fell fast asleep almost immediately after boarding, waking up with enough time to watch an episode of Two and a Half Men, starring former bad-boy bud Charlie Sheen. Not much reaction there. Once landed, K.S. took off like a bullet, a cig tucked behind his ear, prolly hightailing it to an outdoor area to smoke it. Taking her sweetass time elsewhere was...
Sofia Vergara, sashaying down the red carpet at the premiere of Seven Pounds in Ef-Hell-Ay. Sofia-darling donned black heels and a black shimmery dress to match, her hair loose—too bad her lips didn't follow suit. S.V. stalled at the end of the carpet, waiting for the flick's stars, Will Smith and Rosario Dawson, to make their way over so she could be photographed beside them. What's a gal gotta do to get some press, huh? Besides dating Tom Cruise, 'course.