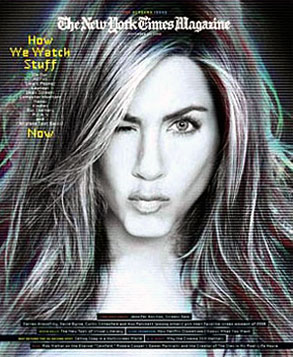 NY Times Magazine
• Jennifer Aniston tells the New York Times Magazine she doesn't like the title of her new movie He's Just Not That Into You. She thinks it should be Angie's Very Uncool. OK, we're lying, but we still haven't been able to stop thinking about the uncool incident.
• Sasha Fierce would like to perform for Obama's inauguration. Sounds like a good idea—might as well liven things up with some "Single Ladies" and robot claw.
• Somehow, these covers didn't quite make the "Sexiest Man Alive" final cut.
• And now, even more sexy ScarJo, better than ever, with extra boobage!
• Tyra ups anything Oprah's ever given out by gifting her transgendered ANTM contestant, Isis, with gender reassignment surgery.
• Gwyneth Paltrow apologized to PETA for accidentally wearing a fur in a Tod's add. She used the "stylist put it on me and I thought it was fake" excuse.