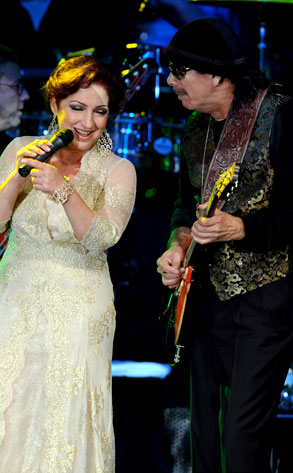 GABRIEL BOUYS/AFP/Getty Images
La vida has provided many good raticos for Juanes.
The Colombian rocker took home a leading 5 trophies Thursday at the 2008 Latin Grammy Awards, including Album, Song and Record of the Year, to bring his all-time win total to 17 and shatter the previous record of 14 held by Alejandro Sanz.
In addition to top album, Juanes' La Vida...Es Un Ratico (Life Is a Moment) was also named best male pop vocal album, while wins for best song, record and short-form music video came for the tune "Me Enamora."
"This is incredible. A million thanks, truly," the artist said in thanks. "I have to thank my father, who is in heaven, God, my children. Since I was very young, my family taught me to listen to Latin-American music...They have all been an influence."
The influences transcended borders tonight in Houston, where the Latin Grammys (in 49 categories!) were handed out for the first time.