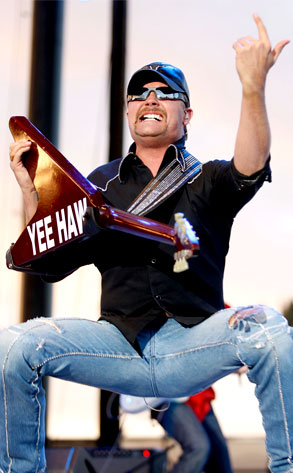 Barry Brecheisen/Getty Images
Call it "Wild West Show (Me the Money)."
Former Danzig bassist Jerry Montano has sued Big & Rich crooner John Rich over their Oct. 17 rumble that resulted in a bloody nose and bruises—but no arrests.
While police wouldn't pinpoint who was the more roughed up after their early-morning skirmish in Rich's room at the Mondrian hotel in West Hollywood, Montano contends in his lawsuit that the "Raising McCain" singer left him with "severe injuries, including permanent scarring, to [his] face, lips, jaw and nose."
According to the assault-and-battery complaint filed in Los Angeles Superior Court, Rich "became belligerent" when the woman he was interested in rejected his advances and threw a glass at Montano, narrowly missing the musician's face.
As the plaintiff moved toward the door to "escape Rich's wrath, Rich ran up to and bludgeoned Montano in the face with his fist, ring and another drinking glass."
Montano is seeking unspecified damages for his alleged physical injuries as well as "extreme mental anguish" and money spent on medical treatment, per court documents obtained by TMZ.com.
A rep for Rich hasn't yet responded to the suit.