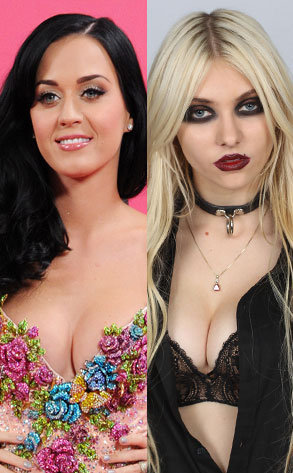 Dave Hogan/Getty Images; STAN HONDA/AFP/Getty Images
Red carpet watchers recently got an eyeful when Katy Perry and Taylor Momsen decided to dip dangerously low.
The newly married singer showed us what Russell's got to work with at the 2010 Victoria's Secret Fashion show in a pink floral corset from The Blonds.
As for the Gossip Girl star, she flashed the goods in typical Goth fashion at the 2010 MTV EMAs in Madrid.
Sure, we're a little less shocked by 26-year-old Katy's cleavage display. But it's hard to slam 17-year-old Taylor ever since she complained that her pushy parents put her to work before she was ready.
Lock up your kids—this is what happens when your daughter picks up a paycheck at age 2!