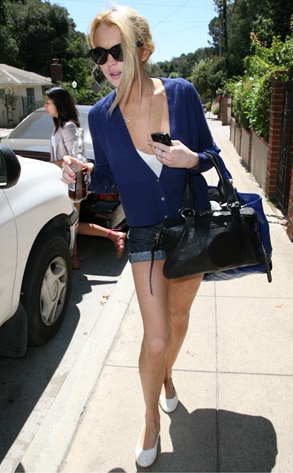 Fame Pictures
Two down, one to go.
Following the arrest of alleged Lindsay Lohan-Audrina Patridge burglar Nicolas Prugo last week, E! News has learned that the second of three reported thieves has turned herself over to authorities.
A source close to Rachel Lee, one of the two-young women allegedly caught on camera attempting to enter Lohan's home, tells E! that Lee voluntarily turned herself in to police last Friday, Sept. 18, after hearing the accusations being made against her.
However, not everyone is buying the stories being told in the press. Kelsey Schluter, a friend of Prugo's, took to her Facebook after hearing about both arrests. "You don't know the facts. Lindsay, Nick, and Rachel are all friends," claims Schluter. "It was an inside job. A safe was never stolen."
As of today, the LAPD was unable to confirm that Lee had turned herself over to authorities. An official statement is expected on Monday.